English
Our School aims to provide an environment where children can learn to communicate efficiently, effectively and with enjoyment through spoken, printed and written English.
Children are taught to read independently using a variety of methods and schemes. They are introduced to a wide range of attractive and stimulating books in class book corners, and the school library, including classical, and modern literature from other cultures. Regular visits are made to our local library where possible.
Children are encouraged to write for many purposes and audiences. They regularly compose stories, poems and descriptive passages; write letters, invitations and reports. The conventions of spelling, punctuation and grammar are taught systematically through their written work and specialised schemes. Written work is revised and redrafted, paying attention to meaning and clarity. Well-presented work is expected using a cursive style of handwriting. Children have opportunities within school to discuss, debate and relate events in order to become confident speakers and listeners.
In light of school closures, many websites are now offering free memberships for parents and children. This includes Phonics Play which will support children with their phonics skills.
Username: march20
Password: home
To support you during this period, Twinkl is also offering access to all Twinkl resources with a One Month Ultimate Membership, totally free of charge. Setting this up is really easy to do - go to www.twinkl.co.uk/offer and enter the code UKTWINKLHELPS
Renaissance UK are also providing free access to a huge range of books to read online. Go to https://readon.myon.co.uk/ to browse their selection of books.
Below is a list of websites to support your child with reading at home.
Our School Library
We were fortunate enough to have our library updated in 2018. Our brand new library was opened by Councillor Seán Holden. It is well stocked and is a hub for learning in school.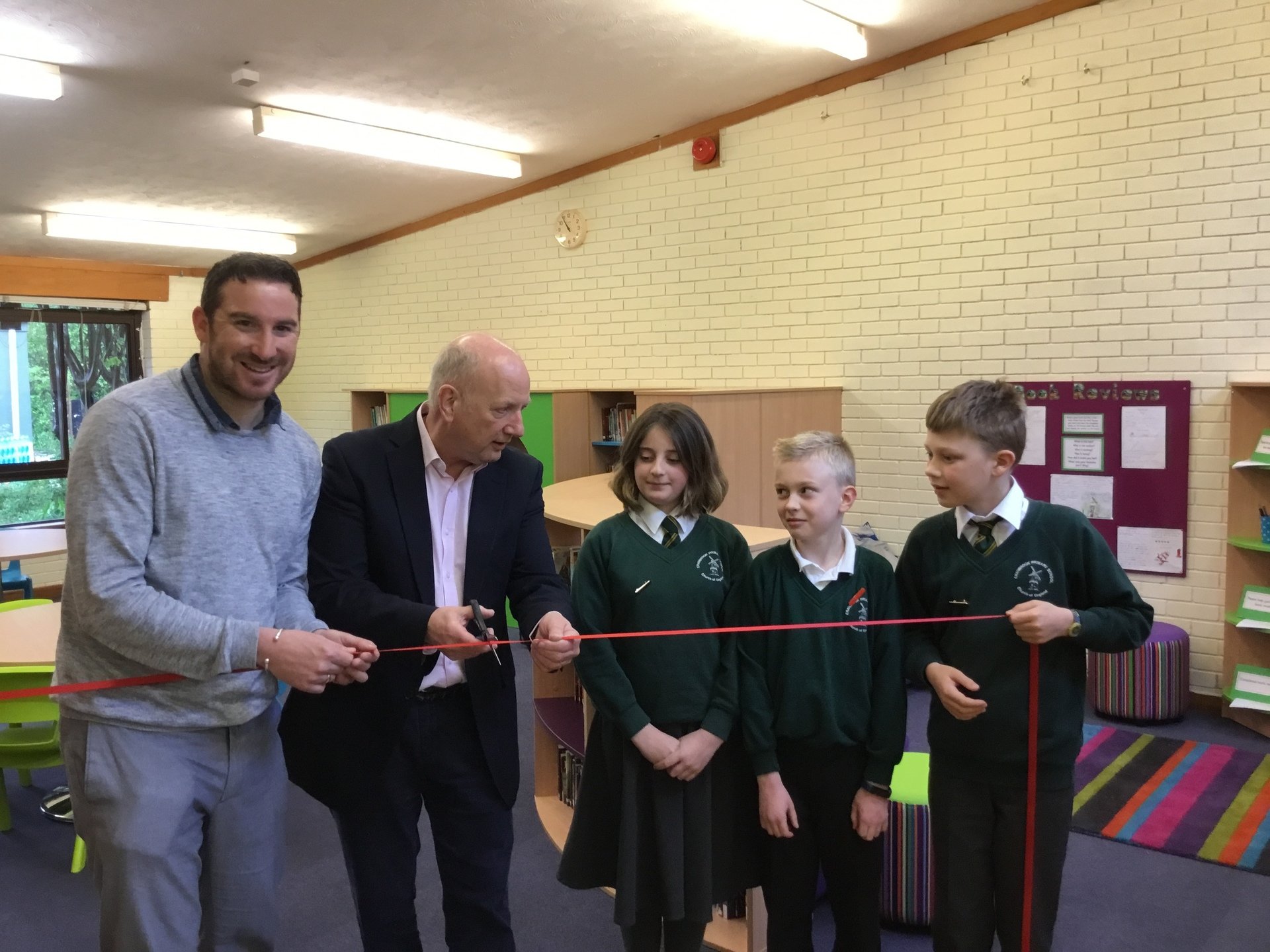 Our Librarians
At Cranbrook Primary, our library is run by our KS2 Librarians and some of our excellent volunteers. Librarians man the library during lunchtimes, helping children to select new books and complete their Accelerated Reader quizzes. They also share stories together and complete book reviews with the childre based on the books they have shared.
Visiting Cranbrook Library
Each class frequently visits Cranbrook library which is conveniently located at the end of our road. During the visits, children receive a tour of the library and a talk from a librarian who explains the services on offer. They also read books based on their topic and compelete a quiz based on the knowledge they have acquired. The visits have created a real buzz around reading and it is great to see children accessing such a valuable service in the community.
"Visiting Cranbrook Library is really fun because I get to find new books." Year 4 child
"The library has a range of exciting books for both children and adults." Year 6 child
"Even I discovered new books in the libaray." Member of staff
Book Grab
We realise that once you have developed an appetite for reading, it can be quite expensive to constantly buy new books to read. At Cranbrook Primary, we regularly hold 'Book Grabs' to encourage children to read new books. This is an excellent way of recycling books, saving money and encouraging book recommendations amongst the children.
What is 'Accelerated Reader'?
Children from Year 1 upwards are taking part in the Accelerated Reader programme which helps us to manage and monitor children's independent reading practice. Each child picks a book at their own level and reads it at their own pace. When finished, the child takes a short quiz on the computer. (Passing the quiz is an indication that the child has understood what they have read.) Accelerated Reader gives children and teaching staff feedback based on the quiz results, which are then used to help the child set goals and direct on-going reading practice.
As they read, children are taught to make appropriate notes in their Reading Journal, e.g. chapter summaries, character notes, etc. which will support them when carrying out their quiz. If children do not pass the quiz, teaching staff will support them by:
helping the child to choose another book that is more appropriate
ask more probing questions as the child reads and before they take a quiz
pair the child with another student, or even read the book to them.
Drop everything and read!
We know the importance of children being read aloud to so every day at 3 o'clock, each class is read aloud to. This enables all children to share a range of texts during their time at our school.
Beanstalk
We are lucky enough to work with Beanstalk, a national reading charity. Beanstalk volunteers come to school twice a week to listen to selected children read and discuss their favourite books.
Oxford University Press - Word Gap
We're proud to be a Word Gap Partner School in association with Oxford University Press. We're committed to closing the word gap and improving children's vocabulary and wider life chances. To find out more about the word gap, read the associated research and available resources here.
Please click on the documents below for strategies to support your child with their reading:
Comments from Ofsted Report (2017)
Teachers use a range of effective strategies to teach writing. Linking writing to the exciting curriculum encourages pupils to write increasingly extended pieces. These allow pupils to develop their ideas and to practise their technical understanding of writing.
Much has been done to improve the teaching of reading. Teachers promote an enjoyment of reading. The library is well stocked. 'Read with me' sessions encourage parents to read with their child in school. Pupils receive rewards for becoming 'home reading heroes' by reading frequently at home.